The major road linkages connecting JNPA with the hinterland road network are NH4B, NH4, NH17, NH 3 & 8 and a State Highway 54.
The major road linkage connecting JNPA to its hinterland is as below:
National Highway 4B Four Lane – This road connects JNPA with Mumbai and other important cities of Maharashtra and Gujarat. The road mainly serves the heavy traffic of containerized vehicles to and fro JNPA. It has a length of 26.43 km and branches at km 108/800 of NH4.
National Highway 4 - The port is connected through National Highway number 4 through NH 4B. The linkage to NH 4 provides connectivity to Pune and southern states of India.
National Highway 17 - The state Highway number 66 links the port to National Highway number 17 (2 lanes) which provides connectivity to Goa.
National Highway 3 and 8 - National Highway Number 4 (2 lanes with a portion of the highway being 4 lane) links port to NH 3 and NH 8 (2 lanes with a portion of the highway being 4 lanes) which provides connectivity to Nashik and Ahmedabad region.
State Highway 54 - This state Highway stretch connects Uran to Panvel. It runs more or less parallel to NH 4B. SH54 meets NH 4B at km 6/000 on the Uran side and km 21/000 on the Panvel side A number of container yards are located abutting SH54 and the majority of traffic on this road is due to the JNPA.
Aamra Marg: It begins at km 125/800 of Sion Panvel highway (SH42) and passes through Belapur, Nerul and Ulwa and ends at km 13/900 of SH54. The road is an important link between northern and southern parts of Navi Mumbai and JNPA.
All-important destinations in India whether on the North, West, or East could be accessed through any one of these three National Highways.
To enhance the existing road network connecting JNPA, we have initiated a massive Infrastructural development project which includes:
Widening of NH-4B, SH-54, and Amra Marg from 4 lanes to 6/8 lanes
Widening of Existing Container Road towards East Side of 'Y' Junction to North Gate Complex
Construction of Flyover near to North Gate Complex on Container Road in JN Port
Construction of Flyover at Y Junction near Port Users Building.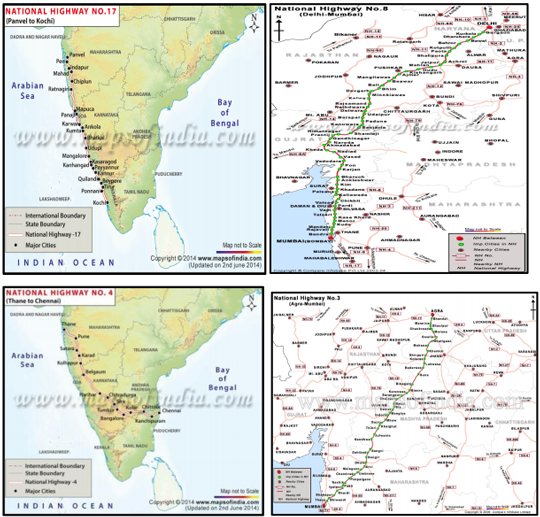 Road Connectivity
This is the first initiative in the Port Sector to infuse capital investment in the Port Road Connectivity Project to the extent of Rs.3300 Crores. Once the project is completed, the travel time between the National Highway and the Port will significantly reduce thus saving time and Trade cost, it will also mitigate congestion on the port connecting roads and at the same time commuters will also be able to use this state of the art infrastructure.